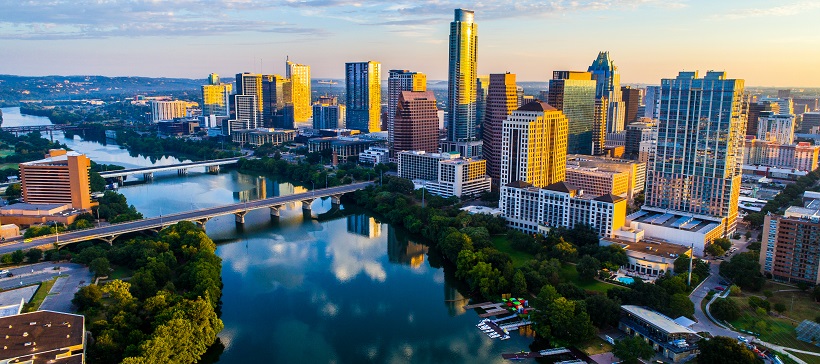 One thing is guaranteed in Austin, Texas: There's always something new happening. We're excited about several upcoming developments in Austin that will bring new parks, markets and arts spaces to the city in the coming year. If you're thinking of relocating to Austin, you might want to consider grabbing a house near one of these exiting new commercial real estate developments!
St. Elmo Public Market
South Austin
South Austin is about to have a whole lot more food options, courtesy of St. Elmo Public Market. Currently under construction, the public market already has some tenants lined up, including a local produce store from Ben Runkle and Bryan Butler of Salt & Time, and a new bakery/modern diner concept by Michael Fojtasek. As it continues to fill up, the St. Elmo Public Market will offer some of the best options in Austin for fresh, local food.
The market will sit less than 10 minutes from our Searight Village community, where about a dozen 3- and 4-bedroom family homes are available now. Our coming-soon community at 7300 South Congress is even closer.
Shady Lane Creative Studio
East Austin
Artists, take note! East Austin is poised to be the next up-and-coming hot spot in Austin, and Shady Lane Creative Studio—a planned 64,674-square-foot creative space at 1141 Shady Lane—is one of many big things coming to this neighborhood. Shady Lane Creative Studios will offer retail and potential art gallery space, along with artists' studios, offices and a 1920s-era house that is being converted into a restaurant.
We're thrilled to offer new homes near this exciting part of Austin. Several home sites are available at the Eastwood at Riverside, a beautiful master-planned community at East Riverside Drive that is located just 10 minutes from Shady Lane Creative Studio.
ACC San Gabriel Campus
Leander
It's been a long time coming, but Leander's branch of Austin Community College—to be known as the ACC San Gabriel Campus—is finally set to open soon. It's yet another big win for Leander, which is one of the fastest-growing cities in Texas and is situated just north of Austin. ACC San Gabriel is expected to have an initial enrollment of about 2,000 and will hold its first classes for the Fall 2018 semester.
This new campus sits mere footsteps away from the Enclave at Leander Station, one of our most exciting new communities. With about 20 homes available now and many more under construction, this community offers access to all the amenities in Leander, as well as an easy commute to Downtown Austin.
Waller Creek Park
Downtown Austin
For many Downtown Austin dwellers, Waller Creek Park has been a dream for a long time, and now ground has been broken on the parks complex dubbed "Austin's Central Park." Envisioned as a chain of parks that will connect areas all over downtown, Waller Creek Park promises to be the crown jewel of the city, offering endless opportunities for hiking, biking, picnicking and exploring the outdoors in the heart of Austin.
This exciting new parks complex would be within walking distance of Downtown Austin communities like 1306 West, which offers distinctive luxury residences tucked away in the heart of the city.
Contact us at MileStone Community Builders to learn about the local area—including exciting real estate developments—around our communities.