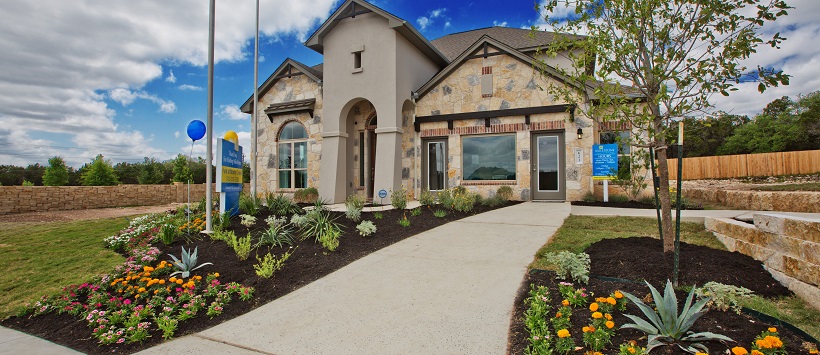 Nestled in the family-friendly neighborhood of Cedar Park, The Park at Brushy Creek offers beautifully designed homes near some of the region's best schools, parks, entertainment venues, shops and restaurants. To help you choose from a variety of options, sit back, relax and get to know your future home through these virtual floor plans.
Mojave
Home details:
3 beds
2.5 to 3 baths
2,139 square feet
Starting at $394,990
A great choice for young families, the Mojave floor plan strikes the perfect balance between an open, airy design and a cozy family atmosphere. The kitchen features modern appliances and amenities, and the 2-car garage (third car optional) gives you lots of room to spread out. The master suite includes a spacious walk-in closet. Also, you can customize the master bath with a luxurious shower and freestanding tub. Outside, you'll find a breezy covered patio and front porch.
Tucson
Home details:
4 beds
4 baths
2,470 square feet
Starting at $414,990
The Tucson floor plan is a bit more spacious than the Mojave, and feels even bigger thanks to an airy, open-concept design. The connected kitchen, family room and breakfast nook provide a perfect focal point for the whole family to spend time together. The 4 bedrooms and 4 bathrooms ensure that everyone has their space. Upstairs, you'll find a wide-open area that would make a perfect game room, and the outdoor features include a spacious covered patio looking out onto the backyard.
Coronado
Home details:
4 to 5 beds
3.5 to 4 baths
3,754 square feet
Starting at $479,990
The open and spacious Coronado floor plan is perfect for larger families, giving everybody plenty of room to breathe. The family room, dining room and kitchen combine to form a huge open space downstairs. In contrast, the upstairs bedrooms, game room and storage room offer lots of opportunities to make every space your own. You'll find downstairs rooms that are ideal for a home office and study as well as further options such as a media room, a luxury shower and a fireplace provide even more ways to really make this floor plan your own.
At MileStone Community Builders, we're continuing our commitment to bring you the best family homes in the Austin area. If you enjoyed these virtual floor plans, contact us today to learn more about The Park at Brushy Creek!