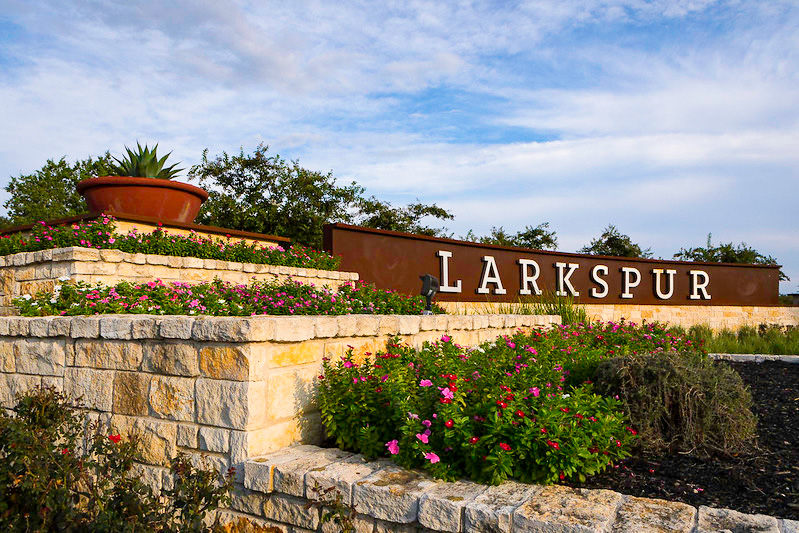 Larkspur is Now Selling Final Phase Homes in Austin! Hurry before the Spacious and striking homes in our Larkspur community run out! If you have always wanted to live in the heart of Texas now is the time. Out of 1,100 timeless homes we are down to our last 50-60. Our sought-after community of Larkspur is in Leander Texas which means lovely homes with access to award-winning school districts, natural attractions, and easy access to Downtown Austin. Move into this highly desirable community and choose from nine gorgeous one-story and two-story floorplans ranging from 3–5 bedrooms, 2.5 – 4 bathrooms, and 1,600 to 2,900 SF of living space before the end of 2022!
Homes in Larkspur have been created to bring families together. Explore stunning open-concept living rooms that seamlessly flow into a sophisticated kitchen with a walk-in pantry, a luxury marble island, and luxury amenities to permit connection. Allow for guest entertainment while cooking or make your morning coffee while watching the sunrise from large windows. Bask around in a well-lit and cozy living room, or recharge in spaciously private areas. Enjoy a state-of-the-art master bathroom with a walk-in closet and unwind by streaming your favorite holiday movies from the comfort of your personal Media/Game room. Find freedom in the surrounding 608 acres of scenic land and discover community by connecting with over 1,500 neighbors.
Aside from opulent houses the award-winning schools zoned to Larkspur make it a desirable community. Set your children up for success with an A+ rated education in some of Texas's top 200 ranking ISD schools in by the U.S News & World Report. Allow intellectual and creative nourishment and let your little ones experience a childhood they will always cherish by running free in the neighborhood playscape or clubhouse!
Another wonderful aspect of Larkspur is the connection it provides to nature, and relaxing environments. Get easy access to natural open spaces and scenic views. Slow down, take a deep breath and bond with the nearby San Gabriel River or Lake Travis. Become a better you by building daily discipline in the neighborhood fitness center. Turn your home into a staycation by visiting the community Amenity Center featuring a resort-style pool, outdoor fireplace, grilling stations, and connective common areas!
A 30-minute drive to downtown Austin makes it easy to experience music, art, and food festivals. Don't want to drive? Take the US-183  CapMetro Commuter Rail that takes you from Leander to Downtown Austin, and anywhere in between, in minutes! The Metrorail offers Wi-Fi access, bike racks, and real-time data for arrival times which makes working and exploring on the go a breeze!
Whether you are seeking community, a bright future for your children, or a place where your family can expand you can be sure that Larkspur has everything you need to grow and explore together. Enjoy the natural beauty of the Texas Hill Country's landscapes while residing in the home of your dreams today! Contact us at (512)-645-2145 to get your dream home in a community that will nurture all aspects of life.  Find everything you have been dreaming of in Larkspur by learning about our final phase homes today!