Changing seasons always offer a chance to reimagine your home's decor. And whether you're a hardcore DIY-er ready to completely reinvent your space or you're simply looking for a few seasonal accents, now is the time to introduce warm, lively fall paint colors into your home. Here's how to bring out the best in your MileStone home this autumn:
Youthful Yellow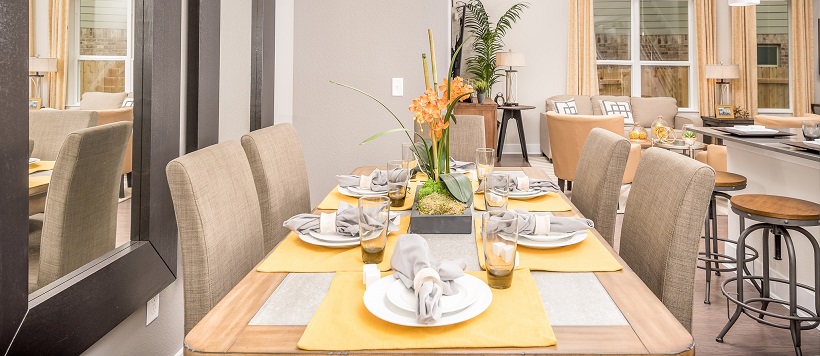 Sometimes it's the subtlest touches that make the biggest difference. Check out the way a few hints of autumn yellow make this dining room at Easton Park stand out without being overpowering.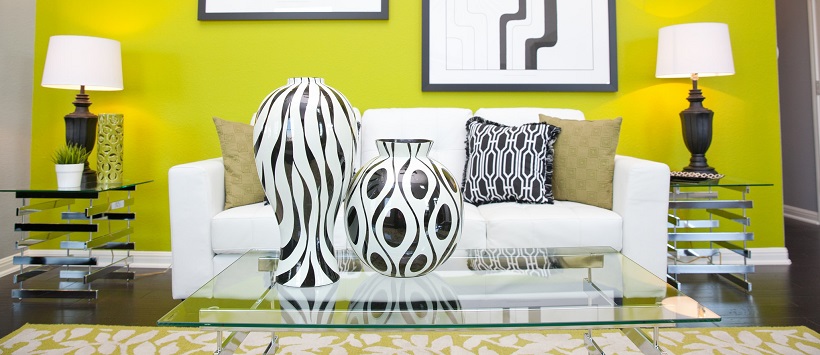 Fall offers an opportunity to be bold with your color choices. This brilliant shade of yellow, amplified here with black and white decor at Whitestone Landing, is not only ideal for fall but creates a vibrant, exciting living space all year long.
Opulent Orange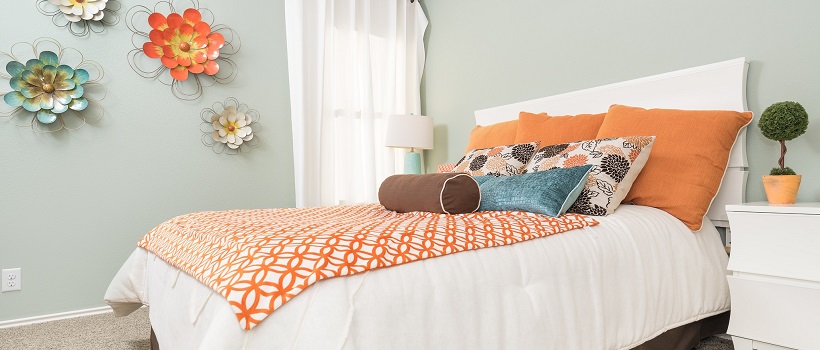 Fall paint colors are traditionally thought of as warm and vibrant—reds, yellows and oranges—but a cool gray hue makes this bedroom at Shadow Creek feel perfectly autumnal when paired with an orange bedspread and throw pillows.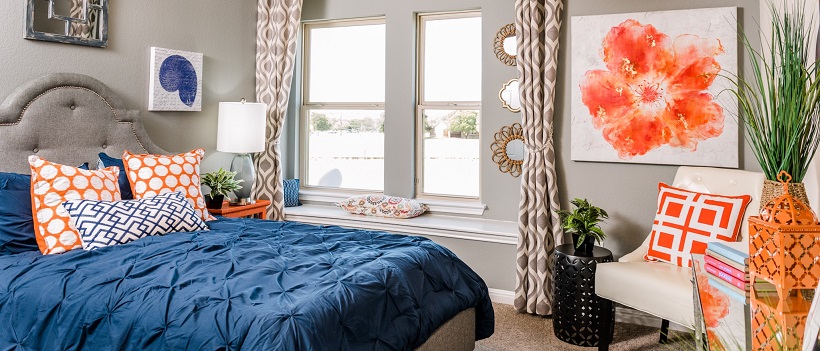 Splashes of orange lend a breezy fall atmosphere to this Larkspur bedroom, especially when contrasted with a neutral paint color and a few blue accents.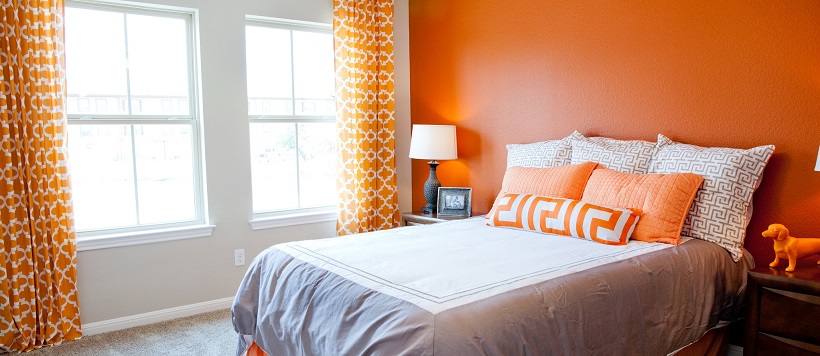 Painting a single wall in a warm fall hue is a great way to reinvent a room without making it feel uncomfortably bright and colorful. In this bedroom at The Arbors at Lakeline, the combination of white and vibrant orange creates a balanced look.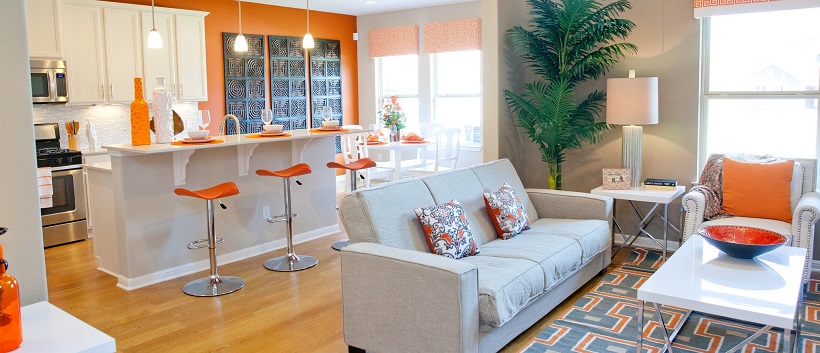 Here's another example of how repainting a single wall can completely transform a larger space. An orange backdrop at the Arbors at Lakeline makes this open-concept living room feel thoroughly fall-like, a mood that's accentuated by a few tasteful decor elements in a matching tone.
Rosy Red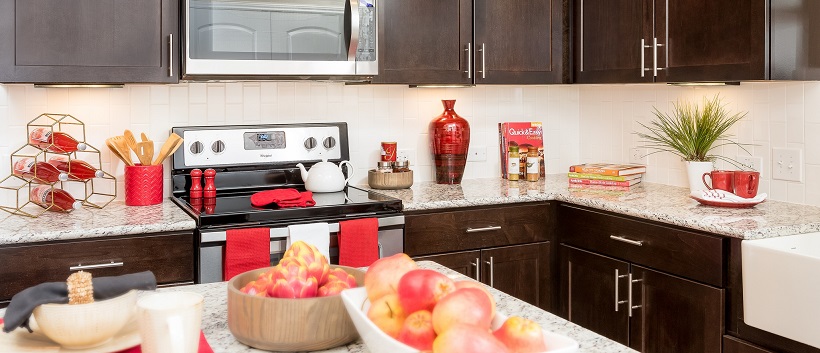 The deep, natural wood color of these kitchen cabinets at Whitestone Landing already looks right at home in fall, and a few accents of red really complete the picture. Bonus points for the freshly picked apples!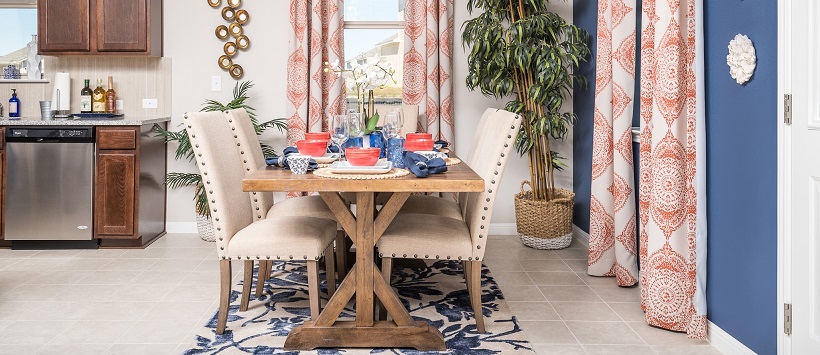 Although the paint choices in this kitchen/dining room at The Meadows at Shadow Creek might not seem particularly fall-like upon first glance, this is a perfect example of how a few key elements—a rustic wood table, red salad bowls and some breezy autumnal drapes—can create a fall atmosphere.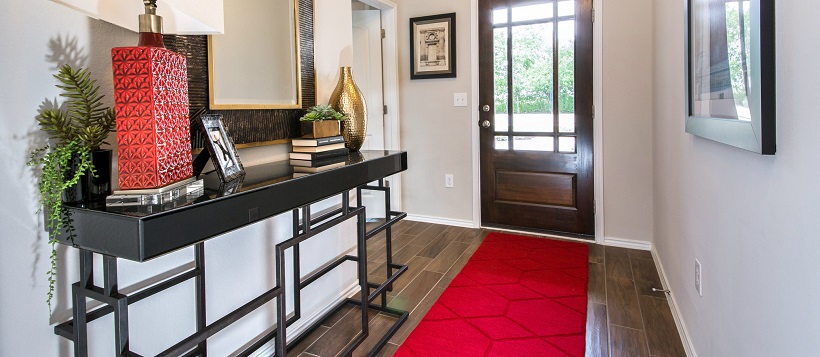 Red can be overpowering if not used sparingly. Avoid bombarding guests with too much color by simply laying out a red carpet, as shown here in this Shadow Creek entryway.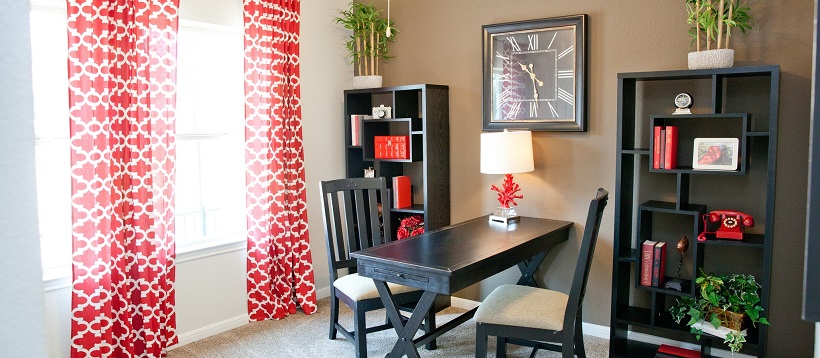 The great thing about earth tones is that they're great for any season. This home office in The Arbors at Lakeline uses earthy paint colors and a few splashes of red to create an autumnal look that could easily be adapted for another season.
This season offers the opportunity to make your home feel warm and cozy with these fall paint colors and seasonal decor. Contact us at MileStone Community Builders today to find your dream home sooner rather than later!